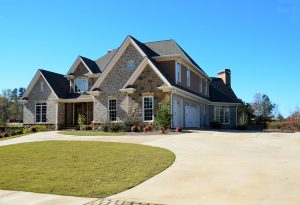 Guaranteed Replacement Cost = Full Coverage For Your Home!
Most Homeowners policies are on an actual cost basis or replacement cost form. (Those will be discussed in another blog post) So is there something better than replacement cost? YES!
Guaranteed Full Dwelling Replacement Coverage (GRC) provides 100% protection from catastrophic events.  Such as fire, gas leak and explosion, lightning strike, fallen trees that cause significant damage and more.  Should an event occur, GRC guarantees to pay 100% to restore your home with like kind materials and craftsmanship, 100% coverage for your family's temporary living expenses and will even waive the policy's deductible should the total value of the claim exceed $50,000.  Unexpected, extra expenses that may arise from circumstances such as inflation, supply-demand issues, weather delays and updated building code requirements are also fully covered with no pre-set limitations or caps.  Guaranteed Full Dwelling Replacement Cost is absolutely the best form of protection you can buy for your home.  However it's hard to find and can only be obtained through professionals such as ourselves.  GRC coverage cannot be purchased through buy direct, advertised insurance companies.  This level of commitment and sophistication is simply too rich for their blood.
Here's another possibly shocking revelation.  GRC policies do not always cost more.  Innovative underwriting concepts enable GRC coverage providers to offer extremely competitive rates to applicants with excellent credit and acceptable prior loss histories, who own homes that are well maintained and properly secured.  As a result, all consumers who believe they will meet these requirements should apply for GRC coverage.  This is the best way to feel safer, smarter and more secure without being forced to overpay.
Welcome to The Oberman Companies!

Call or Email The Oberman Companies