My family and staff have been making and keeping promises since 1921.
Our success and reputation depends on it. The resources of a national brokerage combined with the personal care and attention of a family owned business differentiates our approach from our competitors and enables us to consistently deliver the sophistication and results you deserve. At the point of sale, time of claim and every day in-between
We are licensed in most States, hold international capacity as well and have been authorized to service the products of more than 20 of the industry's best insurance companies. Producing maximum choice and pricing control. Our team of professionals each specialize in different sectors of the industry, including commercial real estate, professional liability, business owner solutions and private client services. Giving customers with multiple needs access to specialists in each field, which offers an efficient and coordinated approach to managing all you risks and exposures under one roof.
Why do business with The Oberman Companies?
Unlike a captive, or direct insurance company who only offers their own proprietary products, our agency is 100% independent of any one company. Many insurance consumers don't fully understand just how important that really is.
When it comes to something as important as insurance, it's imperative that you work with an agency who has an in-depth knowledge of multiple insurance products, companies, and guidelines — not just one.
At the end of the day, what separates one agent from another, is their ability to proactively service their policy holders, and their knowledge of the insurance industry, products, and different situations that may present themselves to their clients.
Independent Agent Vs. The Rest
Here is a quick comparison of the differences between an independent agency like us, and the various other types of companies that are out there: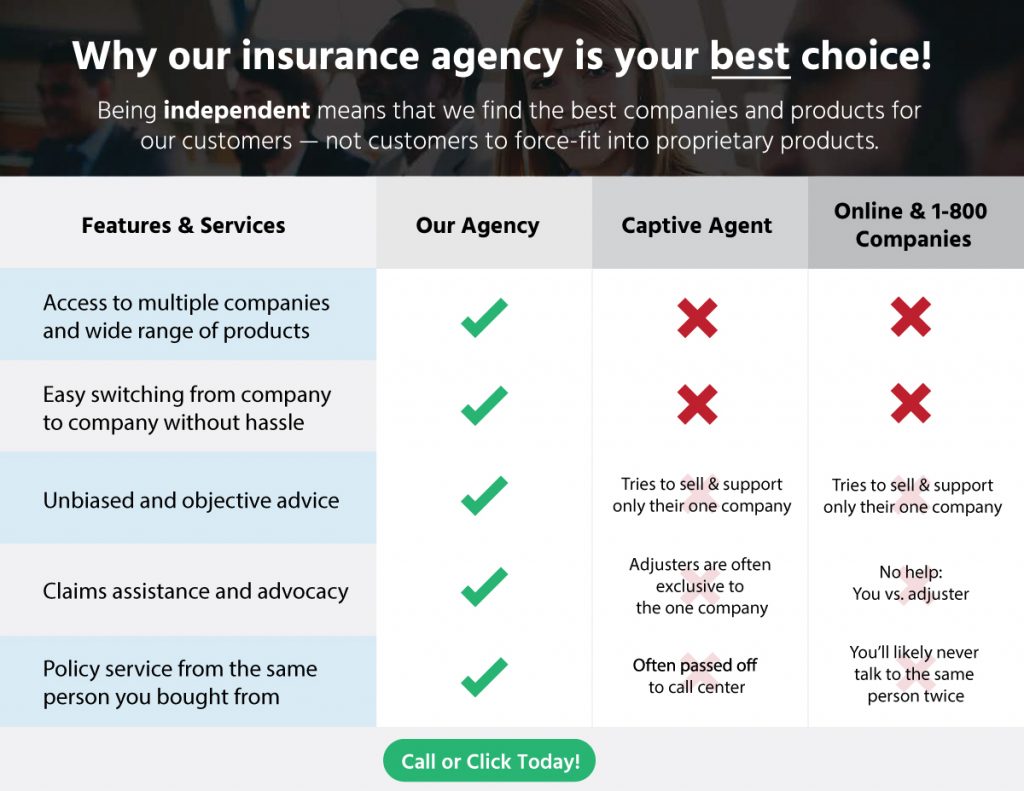 If you'd like to get started with a complimentary quote and/or policy review, we'd be happy to help you any way we can. Simply complete the fields below to get started online in a matter of seconds.
We appreciate the opportunity to help you, and look forward to servicing your insurance needs! Feel free to call us directly if you have more detailed questions.