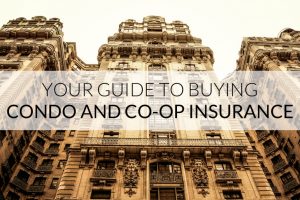 If you're like most people, you probably have more experience picking out window shades than shopping for apartment insurance.
But even though you've spent many months (and likely a significant portion of your life savings) searching for and buying an apartment in NYC, before you start selecting out paint colors—before you even move in—you'll need to line up apartment insurance for that co-op or condo.
The biggest mistake people make when they buy co-op or condo insurance, especially for the first time, is assuming that their building's own insurance policy—the master policy—will cover their own apartment in the event of a claim. But it doesn't. It usually just gives you back a concrete box. The kitchen, bathroom, walls and floors and any renovations that have to be redone are your responsibility.:
One of the most common claims my firm processes involves water damage from bathtub or sink overflows into the apartment below, which can inflict thousands or tens of thousands worth of damage. Most co-op and condo insurance policies come with $100,000 worth of liability coverage, but it's inexpensive to buy more: The difference between $100,000 and $1 million worth of coverage is just around $60 to $70 a year.
Knowing what questions to ask before you go insurance shopping can save you time, money, and regret.
1. What exactly will your insurance cover?
Co-op and condo insurance policies include three basic types of coverage: contents, walls, floors and renovations, and personal liability.
Contents: This covers the bulk of your personal property—clothing, furniture, electronics—from fire, theft, smoke, explosion, and water damage from bursting pipes and overflows up to the dollar amount you choose to insure them.  The amount is up to you, based on what you own, how much it's worth, and how much you want to spend on insurance. Note that there are, however, built-in limits for things like jewelry, fur and silverware. You can buy extra coverage for these. Computer equipment is usually covered—but if you work primarily from home, it may not be, so be sure to ask about additional coverage for anything that outfits your home office.
Walls and floors: Your co-op or condo insurance covers the surfaces of your walls and floors, the built-in fixtures in the kitchen and bathroom, and the value of any renovation work. It costs MINIMALLY $250 per square foot to rebuild an average NYC apartment. Rebuilding a pre-war apartment or high-end apartment can run as high as $600 to $700 per square foot.
Personal liability: This covers you for bodily injury incurred by visitors (such as by tripping over a rug), or, more commonly, for damage caused to your neighbors or their property. It's absolutely essential to have personal liability insurance when you live in an apartment building.
2. How much does co-op and condo insurance cost?
A very basic policy costs $300 to $400 a year and covers contents up to $25,000, walls and floors up to $20,000, and up to $100,000 of liability claims. Those amounts are pretty low, so if you have a big claim and a large apartment, you'll be paying a big part of it yourself.
The next step up is around $450 to $500 a year, which includes $50,000 on contents as well as walls and floors, and $300,000 liability coverage. If you're buying an apartment in the mid-six-figures or higher, you'll probably want to spend more. Insuring a 1,100-square-foot pre-war apartment worth $1 million would cost around $1,100 to $2,400 annually–depending on location and expansiveness of policy terms—with $100,000 contents coverage, $300,000 walls-and-floors coverage, and $1 million liability coverage.
 3. Does your building have any special insurance requirements? What about your mortgage bank?
Before you start shopping, check with your building as well as your mortgage lender.
Both co-ops and condos want you to have sufficient liability coverage to deal with water damage incidents that occur frequently as part of  NYC apartment living. They do not want to be involved in the claims process and they don't want the building's policy invoked.
They also want you to have enough coverage so that you can rebuild promptly if you suffer a major loss.
As for your mortgage lender, requirements will vary depending on whether you own a co-op or condo. Banks are more strict with condos. For co-ops, banks are usually satisfied just to be added to the building's master policy. But lenders typically require condo owners to insure the interior structure (walls, floors, built-in renovations) for at least 20 percent of your loan value.
That's because when you buy a co-op or condo apartment, you also agree to pay for your share of the building's master policy. This policy covers the exterior and common areas of your building and the concrete shell of your apartment. It does not cover your contents or the interior structure of the apartment, the surfaces of the walls and floors, the built-in fixtures in the kitchen and bathroom, and the value of any renovation work that has been done.
For co-ops, some banks don't care if you have your own policy, though of course you should.
4. How big should your deductible be?
Deductibles—the amount of each claim you must pay yourself before the insurance company reimburses you—start at around $250 to $500 and go up to around $2,500. You'll save around 10 percent on your premium with the first few increases and then get into diminishing returns.
I always recommend that people take the highest deductible possible—both to save on premiums, and to discourage filing small claims. It's a little-known fact that if you file two claims within three years, your insurance company will not only balk at renewing, but you'll wind up on an industry blacklist. You'll have to buy higher-priced insurance in the secondary market until enough time passes without a claim.
5. Are you still covered if you sublet your co-op or condo? What if you're planning to use the apartment part-time as a pied-a-terre?
If you're planning to rent out your apartment on a long-term basis (at least six months), your insurance can often be modified or rewritten to cover you so long as you notify your insurance carrier or broker. The increased cost is minor. However, renting your apartment to short-term visitors (for example, through Airbnb) will void most coverage in your co-op or condo insurance policy.
If you plan to live in the apartment only part-time (and not rent it out to someone else when you're not there), coverage is generally unaffected as long as the apartment is furnished. Just remember to check the coverage limits of any umbrella insurance that you have. For example, if you live in California, your umbrella insurance might also cover claims related to your New York City condo—but only if you have at least $300,000 in liability coverage on your New York condo insurance policy.
6. Will your insurance pay for temporary housing if something happens to your apartment?
All co-op and condo insurance policies offer some "loss of use" coverage if your apartment becomes inhabitable due to a covered peril such as fire, extensive water damage, smoke, or gas line explosions. Some policies limit the amount to a percentage of your contents insurance, while some policies have a time limit.  Be sure to ask.
7. Does your co-op or condo insurance cover your dog too?
So long as you notify your insurance carrier that you have a dog, your liability insurance will cover claims relating to dog bites. Exception: Many companies will not insure you if you own certain breeds of dogs believed to pose more risk, such as pit bulls or Rottweilers.
8. Will your insurance reimburse you for assessments?
Most insurance policies will cover special assessments for damage inflicted on the building by a covered peril. Elevator replacements and lobby renovations don't count. But fire damage or a major bodily injury claim might, so long as your building's own insurance is exhausted first. Most policies have about $1,000 built in, but coverage can range from $5,000 to $50,000.
9. How can you save money on insurance (without increasing your deductible)?
You'll save on insurance if you have a doorman or security guard, a central station fire alarm system, or live in a fire-resistant building. If you have expensive artwork, insure each piece separately for bigger savings and better coverage.
10. What doesn't your insurance cover?
Co-op or condo insurance typically doesn't cover damage involving:
Driving a rental car, including Zipcars (although some companies do provide this coverage)
Short-term renters (less than three to six months)
Bites from dangerous-breed pets, such as pit bulls (be sure to ask)
Damage from insect and vermin, like bedbugs
Damage and loss of use of the apartment from rising flood waters
Call or Email The Oberman Companies
Find out if you have proper insurance for your condo or coop unit.